MELT Refresh and Neuro-Strength Workshop
Friday, September 11th, 2015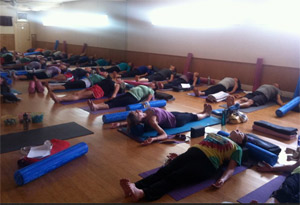 Join us at our Jacksonville Yoga studio on Tuesday evening, September 22, 2015 in a MELT Workshop that will refresh your body and mind with the Lengthening and Hydrating techniques you have learned.
This will be a good workshop for all MELTers who have purchased MELT equipment but have not practiced using it.
Please NOTE: This is NOT a workshop for beginning MELTers.
Joyce Savitz, the most experienced certified MELT instructor in Northeast Florida, will review the first four Rs of MELT that help you get out of pain (Reconnect, Rebalance, Rehydrate, and Release).
And then Joyce will add the next two Rs of MELT from the NeuroStrength phase of the program, that keep you out of pain (Regenerate and Repattern).
For more details on this MELT Workshop, please see the attached MELT Refresh and Neuro-Strength Workshop PDF.
Don't suffer with pain. Make your reservations now to attend this MELT Workshop.
Save money and reserve your spot today!
Cost is only $20 per person until September 19th. On September 20th, the cost of attending becomes $35. (Mail your personal check to Jacksonville Yoga at 476 10th Avenue South, Jacksonville Beach, Florida 32250), or Call Joyce at 904.249.1111. and charge this Workshop on your Credit Card).
Reminder:
This is NOT a workshop for beginning MELTers. If you or someone you know would like to learn more about MELT please Call Joyce 904.249.1111 or Contact Jacksonville Yoga for an invitation to our next Introduction to MELT Workshop.